Up until now, the most storytelling nodes we've launched for a live event was two for a cafe at night. But earlier this month we headed to a neighborhood music festival to test a multi-node approach. Our goal was to see how breadth might add up to more than the sum of the parts.
We successfully featured four phone installations (from restaurant to community center), and two multimedia nodes to spread historic photos by MMS: a treasure hunt and a raffle. We anchored our street presence with the Humanities Truck, including a history exhibition inside and a musical stage on the street.
Our first node was already set up at the nearby Mt. Pleasant Library. Unlike the rest of the nodes for the event, this was a permanent installation, and we hoped to boost awareness of the ongoing opportunity to engage.
The second installation was at the LINE Hotel, with a low-key phone at the entrance to a special exhibit in their community center:
We were excited to embed the phone at the entrance to the special exhibit from Hola Cultura on Explorando Historia Oral, an oral history project focused on the DC Latino community at the Adams Morgan Neighborhood. Given the similar intentions of our projects, we hoped to cross-promote and build awareness of how stories are circulating in DC.
We had a third installation at Songbyrd, a local cafe and music venue: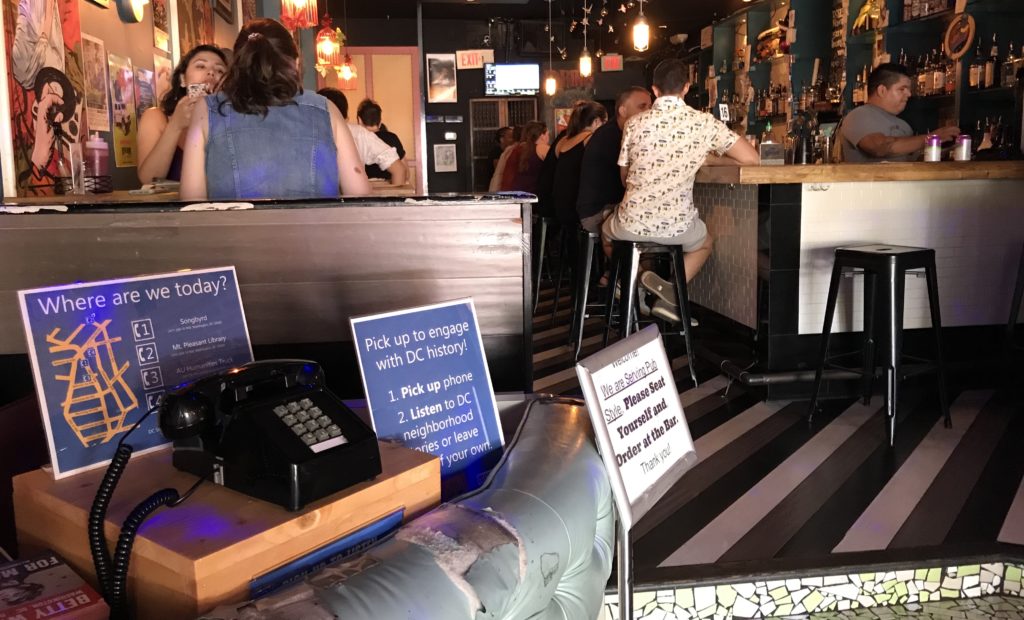 …with food and drink, this space for hanging out provided a different set of possibilities for recruiting listeners and stories to local history. The cafe was a primary host of the stage music for Adams Morgan Day, in part because its own basement regularly hosts bands and local shows. The cafe had additional lures for Adams Morgan Day, including specials it advertised outside.
Most visibly, we had our desk payphone on the main street, right beside our Humanities Truck: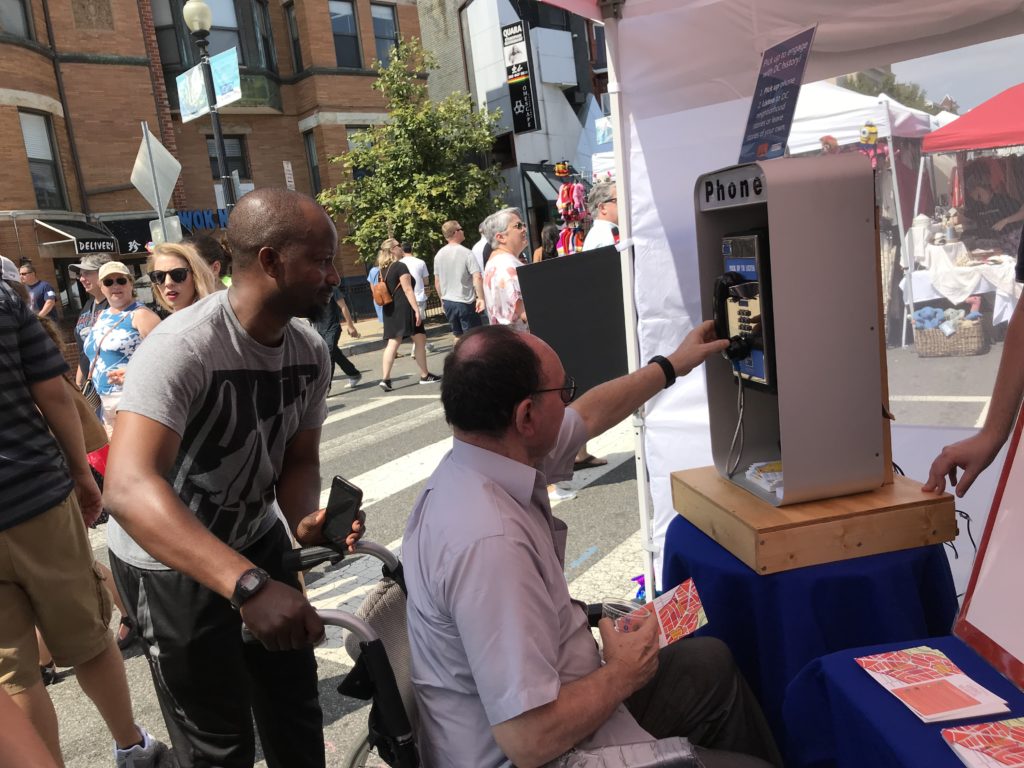 …this node was by far the most popular, and best staffed. Inside the truck, we hosted a special exhibit with photographs and text from the Smithsonian on neighborhood history. Outside, the truck powered a music stage featuring acts invited by the DC Public Library. In our tent, we could direct people from the truck and the music stage to try it out.
Our colorful postcard provided a hook into our digital storytelling system. Here's what the the History Map (created last year) looks like: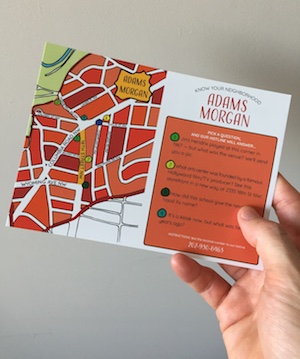 Whenever someone texted into this system, they would get historic photos of Adams Morgan sent directly to their phone. Additionally, everyone who used the system was entered into a raffle that featured prizes from local businesses and organizations.
In total, over 200 people contacted our system and received historic photographs of the neighborhood during the event. The photographs highlighted the library's special collections, which were also used extensively in the Smithsonian's exhibit on A Right To The City. (We seek to make this civic infrastructure visible, as much as to circulate any one photograph.)
One benefit of our system: after the event, we could follow up with everyone who entered the raffle or used our trivia map. In other words, hooks to continue the conversation after the event were made easier by the digital half of our system. Twitter was also a way to share the story, including with partners like the Metropolitan Policy Center and the Smithsonian.
Amidst our success, there were plenty of lessons learned. First and foremost, setting up and managing multiple distinct installations takes a lot of troubleshooting. Some of the locations had unstable internet connections and/or hidden networks, which made the install challenging, and required multiple visits in the days beforehand. For the future, mobile hotspots and ethernet connections are preferred, and we will avoid wifi whenever possible.
The second lesson is the persistent difficulty in capturing attention at a loud public event. For events like Adams Morgan Day, there are many different organizations and businesses all competing for attention. Because of this, projects like ours need ways to stand out and appeal to the crowd. We found that the live stage announcements were valuable ways to break through, alongside the personal conversations alongside the truck; in other words: people still matter, and staffing is crucial.
Overall we were pleased to validate a kind of local scale, both in functionality and staffing. We intersected with very different kinds of space and learned a lot about each. With this breadth, we are eager to double down on the most successful installations and improve performance — including by being more playful, more deeply integrated with collaborating organizations, and by staging ever greater spectacle.
See also:
DC PUBLIC LIBRARY AND AMERICAN UNIVERSITY BRING LOCAL HISTORY TO THE STREETS AT ADAMS MORGAN DAY

DC Public Library and American University will join forces again on September 8th to bring local history to the streets via the Humanities Truck, an attached performance stage, and interactive activities. The truck will feature stories about historic Adams Morgan from the Smithsonian Anacostia Community Museum's "A Right to the City" exhibition. Interactive features include a repurposed payphone to hear oral histories and a raffle that sends historic photos of Adams Morgan via text message to those who enter. DC Public Library has sponsored a performance stage of music and dance with an international flair reflective of the diversity of the neighborhood. Stop by the library booth to get a library card, check out books, and learn about neighborhood history resources in Washingtoniana!

This community history section will be at the intersection of 18th and Belmont Streets NW from noon-6pm on September 8, 2019.
This post was contributed by Mitchell Loewen, a Game Design graduate student at American University, with feedback from the team at The Playful City Lab.