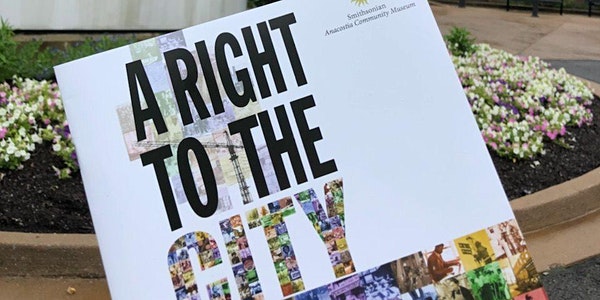 UPDATE: Video below!
Join us this Thursday, October 8th at 7pm EST (live via YouTube stream or our FB event page).
Should DC neighborhoods have a new kind of exhibit, beyond museum walls? This panel analyzes our bold experiment, including Smithsonian pop-ups in branch libraries, trucks with history archives at street festivals, and hotlines for residents to leave neighborhood stories.

Speakers will include:
Samir Meghelli, Senior Curator at the Smithsonian Institution's Anacostia Community Museum
Benjamin Stokes, Assistant Professor, American University
Michelle Casto, Librarian, DC Public Library
Eric White, Librarian, DC Public Library
To celebrate the culmination of the A Right to the City pop-up exhibits in four of our neighborhood libraries, join us for a panel discussion of the exhibition and how participatory storytelling happened across the Smithsonian Institution Anacostia Community Museum, the DC Public Library, and new kinds of exhibition spaces like the Humanities Truck. We will discuss the exhibit's stories of DC neighborhoods and how they organized to make change for their communities. In addition to hearing from the lead organizers of the exhibit and its programming, we will hear recordings from community members gathered at our libraries and at street festivals.
Video from the event:
Continue reading

Live event: A New Kind of Neighborhood Storytelling? Connecting Libraries, Museums and Technology in "A Right to the City"