Welcome to the DC Storytelling System, designed by the Playful City Lab at American University. 
Current project: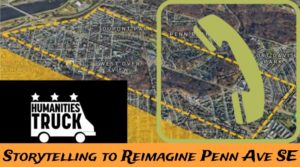 How might we reimagine Pennsylvania Avenue SE? In 2021, we are sharing stories by and for Penn Ave., supported by the Humanities Truck of American University, in collaboration with the DC Office of Planning and organized by the AU Playful City Lab. For more, see our project page.
Prior project:

INSTALLATION (2018-2020):  We connected a Smithsonian exhibit to five DC public libraries and a storytelling truck. Residents can call in with their own phones (no app required), receive historic photographs by text message, and record their own stories. To amplify neighborhood events, our tactics range from paper maps that trigger audio content to a repurposed payphone for story collection. 
OUR VISION: Rather than simply put "more content online," our goal is to design and study new ways to circulate local stories at physical events, across institutions (like museums and the local library), and with our own phones (no apps required). Strong places have the ability to tell their own story — including in public space.  Increasingly, digital media is part of public space and community life, but cities need tactics that emphasize equity and amplify in-person organizing.
For the latest, see our news and reflections.  Some history:
April, 2018: Our first re-purposed payphone was featured in the Smithsonian's "A Right to the City" exhibit at the Anacostia Community Museum, on view April 2018-2020. Over the next several years the hotline will gather new voices and evolve, including to distribute multimedia from residents and exhibit partners.
October, 2018: Our Humanities Truck made a first appearance at Adams Morgan Day, including a neighborhood history map tied to our storytelling hotline.
March, 2019: Five branch libraries in the DC Public Library system opened satellite exhibits featuring the storytelling system, as part of a collaboration with the Smithsonian Anacostia Community Museum.
Summer, 2019: We began installing listening stations around DC to access the story system, and bringing a mobile system to events for teachers and residents.
Fall, 2019: Launch of the Spanish language version of our hotline, with a physical anchor in Mt. Pleasant Neighborhood Library; and launch of teacher packs with curricular options at a DC Public Schools development day.
June, 2020: In response to Covid-19 and the protests of #BlackLivesMatter, the Smithsonian repurposed our hotline to gather moments of resilience (covered by NPR and WUSA9).
Conceptually, our system investigates a more ecological approach to circulating stories that strengthen our sense of place, community and civic life. Drawing on Communication Infrastructure Theory, our approach is to explicitly bridge neighborhood institutions, resident networks, and local media.
Multimedia can also be sent with the hotline. One conceptual illustration: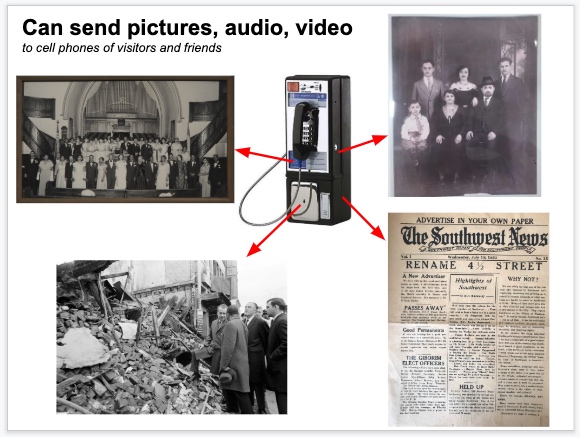 Questions? Contact us.
The voices from this project come from the community, and institutions ranging from the Smithsonian Anacostia Community Museum to the DC Public Library. This is a project of the Playful City Lab in the School of Communication at American University, as part of a collaboration with the Leimert Phone Company, and made possibly thanks to the generous support of the Smithsonian Women's Committee.