For this outdoor festival hosted by the National Park Service, we tested the "desk payphone" outdoors. Our tents were at the far left, alongside activity stations for families.
The wooden base was created by Hazel Arroyo, with a mobile hotspot+VOIP to tie into our Twilio backend for the hotline.
We used a golf cart (!) to transport it into the event: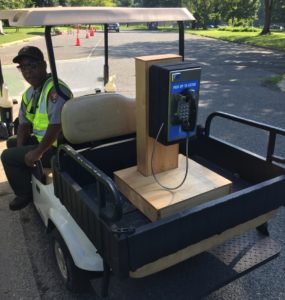 More than a hundred visitors stopped by for the few hours we were there, often after viewing the amazing lily fields or listening to a concert at one of the two stages.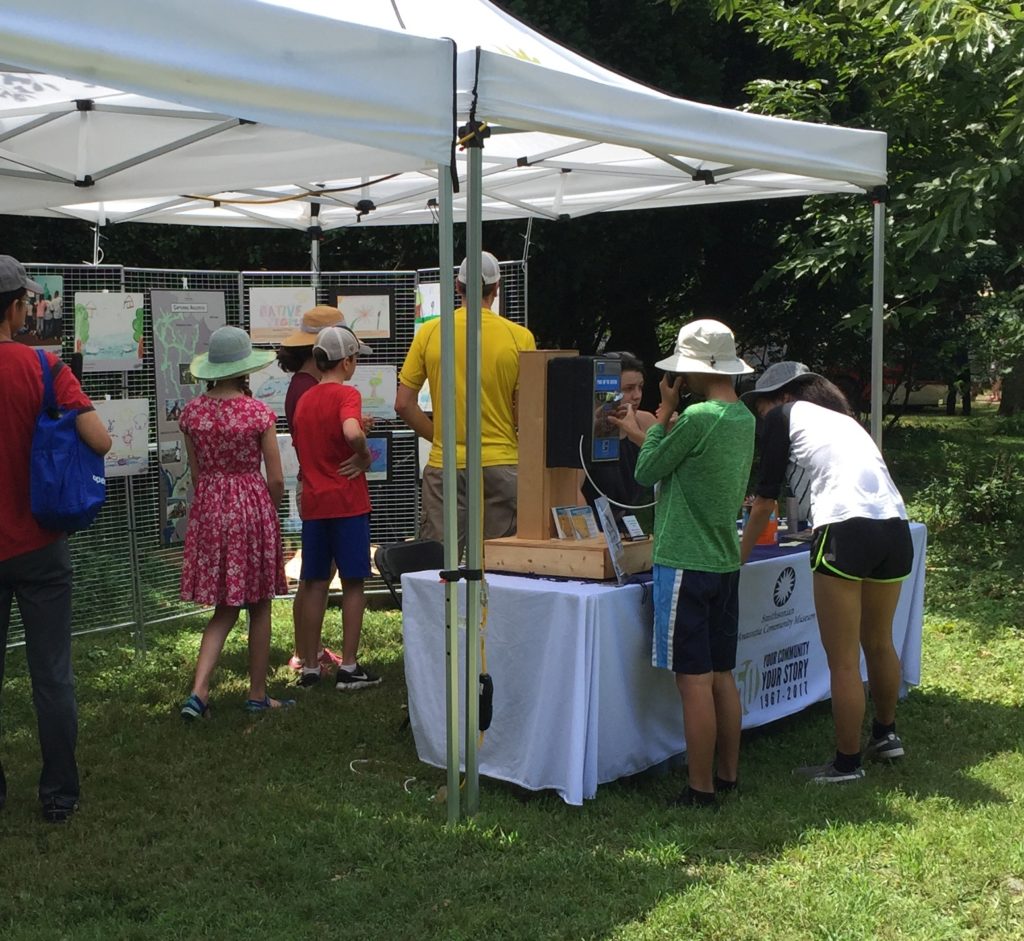 For content, the Smithsonian tent featured two overlapping exhibits. The photographs on the Anacostia River were from the Urban Waterways project. Meanwhile, the payphone highlighted the Right to the City exhibit, including some of the oral histories featured in the museum with our original payphone. The river flows through DC, and is part of how the city is changing.
For kids, the participatory approach was more visual. I liked the invitation to have them draw the river to capture both "the future" of the river and their "favorite memories." Displaying their contributions alongside museum content was a great way to show respect for everyday voices and stories.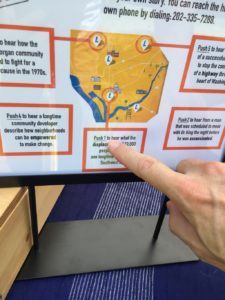 Our map with story teasers was important for navigation. Visual navigation is often better than the audio hotline. One lesson learned: listeners wanted to immediately press the story number from the map (not navigate to the "listening" section first). We also discovered that our calling cards did shape the stories people left; our prompts were: "What should our neighborhood KEEP?" / What should our neighborhood CHANGE?"
(The lilies were amazing, of course. As the city changes, a new bridge is planned to cross the river and connect Kenilworth Gardens to the National Arboretum.)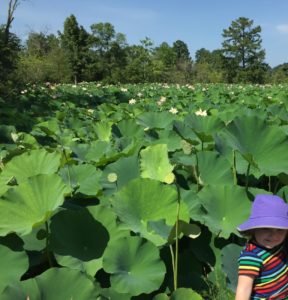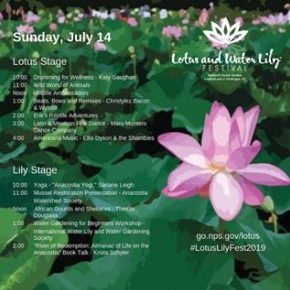 About the Festival (July 13-14, 2019): The annual Lotus and Water Lily Festival is presented by the National Park Service at Kenilworth Aquatic Gardens, a one-of-a-kind destination within Anacostia Park. The aquatic gardens remain a hidden gem in Washington, D.C. and are the last remaining tidal wetlands in the city. The gardens is home to an original species of Lotus and Water Lily plants that were cultivated over 100 years ago by Civil War veteran W.B. Shaw and sold all over the world. Today, Kenilworth Aquatic Gardens is the only national park that cultivates and displays aquatic plants for thousands of visitors to enjoy throughout the year.